This week is Code Week EU, and schools, and organizations across Europe are now hosting events to get more people interested in coding. I organized an event at the International School of Amsterdam with lightening talks from Amsterdam's coolest programmers, marketeers, graphic designers, and more!
Get inspired by tech
Code Week EU events are hosted in schools all across Europe during the week of October 13-17. I knew I wanted to host an event at the International School of Amsterdam, but wanted to make sure that the 6th grade students understood the big picture before diving into actual coding. Thus, I invited mentors from all different branches of tech to come and give short lightening talks to the students. Our 100 6th graders were split into small groups of 7, which rotated every 10 minutes to a new table, and a new mentor. The purpose of our Code Week EU event was to get kids inspired by tech by passionate people, and we definitely achieved our goal! Students were engaged, and enthralled by presentations ranging from online security, to advertising.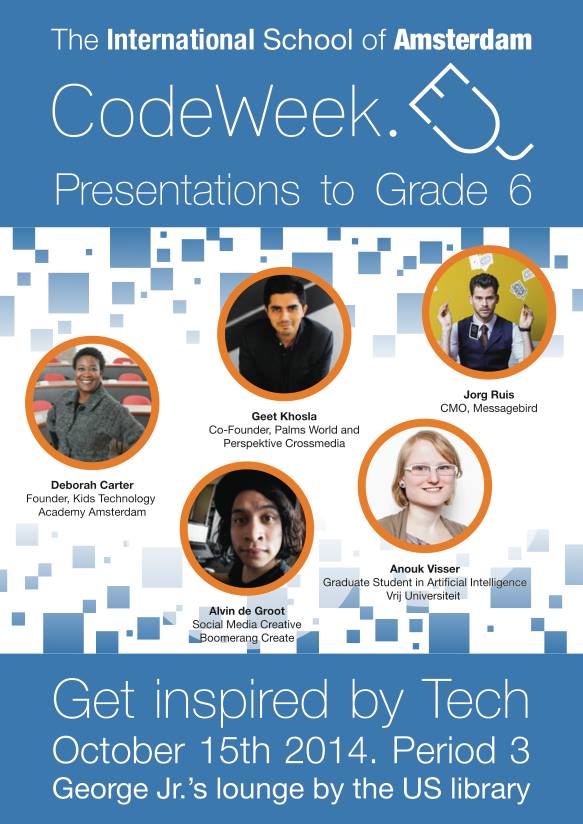 Poster for EU Code Week by the amazing Wouter Goedkoop
Lightening Talks By Tech Mentors
An astonishing 14 mentors volunteered at this event who spoke on the topics of graphic design, social media, marketing, business development, programming, hardware, online security, and entrepreneurship. Speakers included
Jorg Ruis
, CMO of MessageBird, Eleonora Spagnuolo, a freelance graphic designer,
Cobie van de Ven
of iCoach,
Geet Khosla
, Co-Founder of Palms World and Perspektive Crossmedia,
Mariette van den Bogaard-Braaf
a customer service expert, Nienke Koorn of WeTransfer,
Johanna Adamson
, Lead Business Analyst of Rabobank, Deborah Carter, Founder of the Kids Technology Institute of Amsterdam,
Richard Kraaijenhagen
, Founder of Owlin,
Dan Roden
Senior Freelance Developer,
Anouk Visser
, Computer Vision Engineer,
Alvin de Groot
, Social Media Creative for Boomerang Create, as well as Wouter Goudkoop, Lead Graphic Designer at the International School of Amsterdam, and Erika Harriford-McLaren, Head of Communications at the International School of Amsterdam.
How did it work?
Are you thinking of doing a similar event at your school? Here's how I made it happen: First, I reached out to friends in the tech scene via Facebook, Twiter, email, and LinkedIn, and also galvanized my friends and colleagues to help find awesome techies who would be willing to donate a few hours of their time for EU Code Week. Once I had found 15 mentors that each brought a diverse skill-set to the table, we were ready to go! Each tech mentor was asked to prepare a 5-minute lightening talk with accompanying slides on their laptops. When they arrived at the event, they were placed at a table, and asked to set up. As students filed in they were placed in groups at a table. Then, mentors gave their 5-minute presentation, and saved 5 additional minutes for questions from the students. Each 10 minutes the students switched with their group to the next table. In this manner, students were able to visit about half of the tables by the end of the event. The students were super engaged throughout the event, and we didn't have a single behavioral disruption. This just goes to show that bringing in speakers, and mentors from the community can be a very powerful experience for kids!
Photos from the event
Below you'll see all of our mentors, as well as
yours truly
.
@EUCodeWeek #EUCodeWeek #codeweek mentors at the International School #edtech #code #coding #tech
As you can see below, Deborah leads a riveting lightening talk on entrepreneurship where she spoke about her current startup, as well as her days working for The New York Times.
#CodeWeek #CodeWeekEU #Amsterdam #tech #edtech
While Dan used Littlebits, and the MakeyMakey hardware kits to really wow the students with light-up, sound, and super circuit-power effects!
#EUCodeWeek #CodeWeek #CodeWeekEU #edtech #tech #coding #Amsterdam
Erika, our Head of Communications at the International School of Amsterdam, gave a presentation on the use of code in Marketing. The kids were especially impressed when she used the Inspect Element tool to look inside the ISA webpage to view the source code.
#CodeWeek #CodeWeekEU event in #Amsterdam
Alvin shared his expertise in creative campaigns for social media, including his work from a super cool De Ruijters campaign in which he painstakingly arranged hagelslag on bread to recreate famous works of art.
#EUCodeWeek #CodeWeek #edtech #coding #Amsterdam
Anouk Visser is a graduate student at the Universiteit van Amsterdam where she studies Artifical Intelligence. She is the main programmer on a project to save the rhinos. Anouk is writing an algorithm to detect poachers in images captured from a remote controlled drone. Next week Anouk travels to South Africa with her team to test the drone, and software on real rhinos, and potentially real poachers!
Behind Anouk you'll see Richard Kraaijenhagen, Founder, and lead programmer for Owlin, an online newsroom that has been known to capture news faster than Bloomberg.
#CodeWeekEU #codeweek14 #CodeWeek #coding
Wouter, ISA's lead graphic designer, showed the students how to create digital images. Wouter is also well-known for his work with comics. Check out his series, The Adventures of Captain Wayne.
#CodeWeek #codeweek14 #CodeWeekEU
Michael gave a hands-on presenation where he took photos of the students sitting at his table, and added those to the ISA website using the inspect element tool. The students are still talking about, "the guy that hacked ISA"
#CodeWeek #codeweek14 #CodeWeekEU #coding